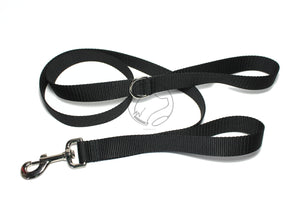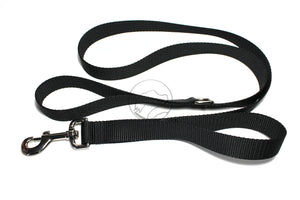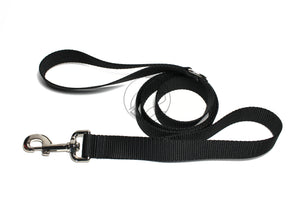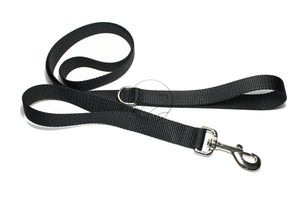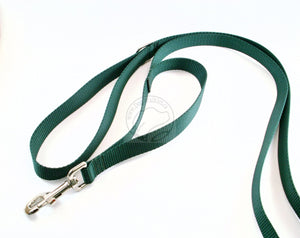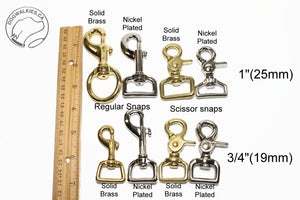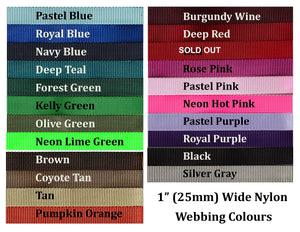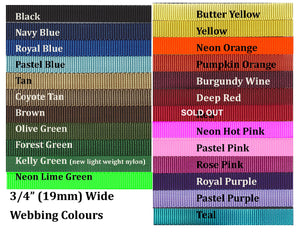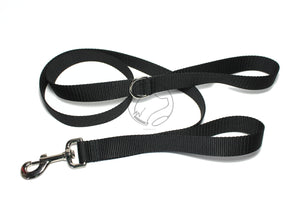 Nylon Two Handle Dog Leash; Simple - Elegant - Strong; Traffic Leash
Take your pick! You can choose your colour and width and length! Made up in durable 1" (25mm) or 3/4" (19mm) wide nylon webbing and strong metal hardware. 

LENGTHS(from end to end):
- 4ft (1.2m)
- 5ft (1.5m)
- 6ft (1.8m)
SNAP CLIPS:
- Nickel Plated: Regular or Scissor
- Solid Brass: Regular or Scissor

*neon colours are difficult to photograph and have been adjusted, they are bright neon coloured.

Please check collars and leashes on a regular basis and repair or replace any damaged parts for safety reasons. Leashes and collars are your responsibility once you receive them, always keep your dog's safety in mind and use responsibly.
All collars and leashes are washable, by hand or gentle cycle in the washer (or top rack of dish washer). Hang to dry. 

All photos are samples of the collars you will receive. Everything is uniquely handmade for your pet.