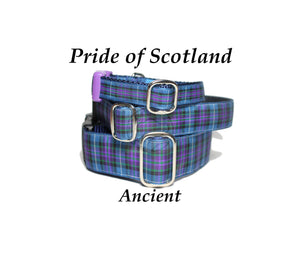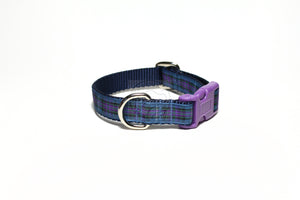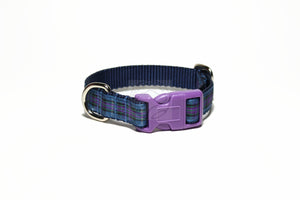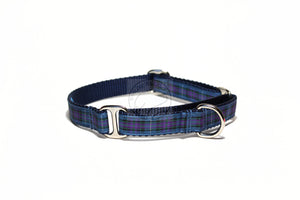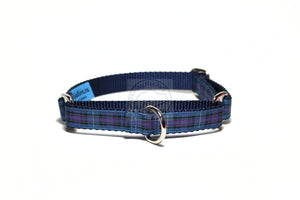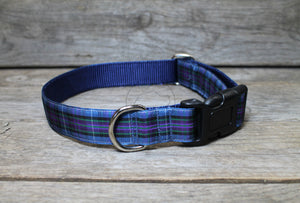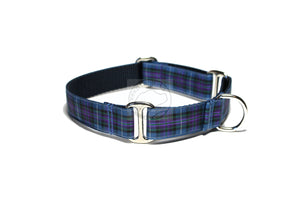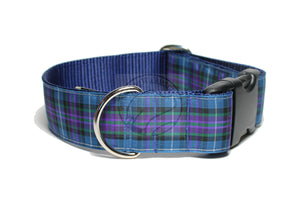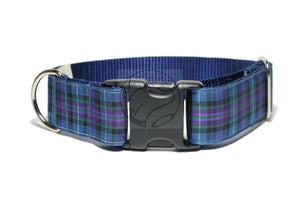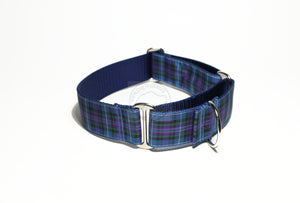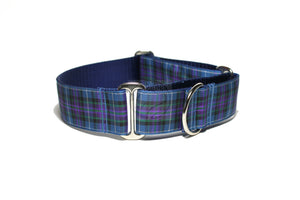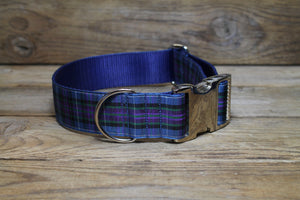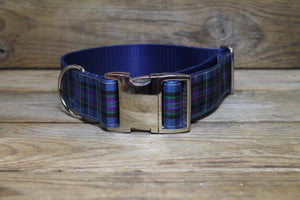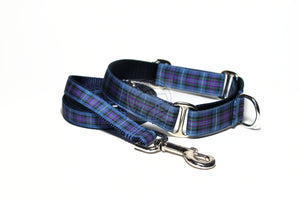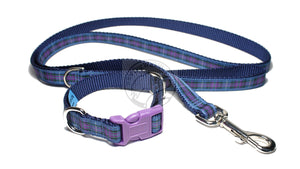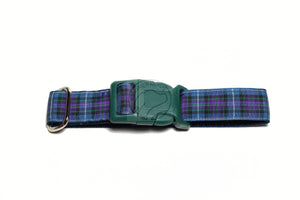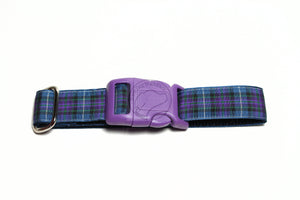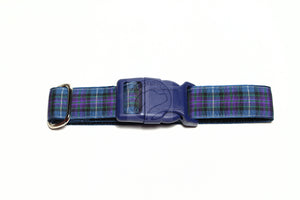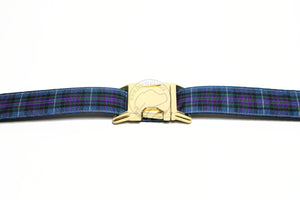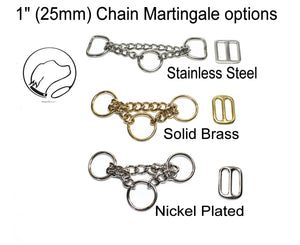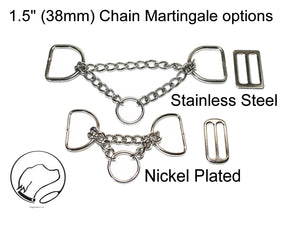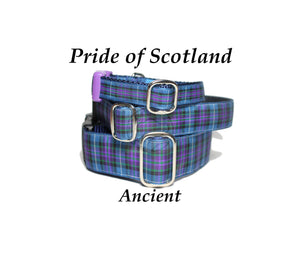 Pride of Scotland Ancient tartan - dog collar
Ancient Pride of Scotland tartan is a purple with complimentary array of denim blue, black and white. One of our special line of "Pride of Scotland" ribbon  weaves (we have a few, not quite all of them yet!). It is matched with the navy blue webbing back for strength and style. Matching leashes are also available; linked here.
NOTE: We carry 2 purple Pride of Scotland tartans, Modern (darker navy, bold purples) and Ancient (denim blues, brighter purple).

Your choice of width, size and style:
WIDTH: Our Ancient Pride of Scotland Tartan collars come in 3 widths:
  3/4" (19mm): mid width, regular hardware, good for almost all types/sizes of dog
  1" (25mm): most common width, regular hardware, best for medium to large dogs or smaller dogs with longer necks
  1.5" (38mm): wide width, heavier hardware, best for (sight) hounds or large to extra large dogs. 
SIZE (adjustable from):
   - Small: 8" to 13" (20cm to 33cm)
  - Medium: 12" to 18" (30cm to 45cm)
  - Large: 14" to 22" (35cm to 56cm)
  - Extra Large: 20" to 28" (51cm to 71cm)
STYLES:
  - Regular Martingale (nickel plated, solid brass or stainless steel)

  - Chain Martingale (nickel plated, solid brass or stainless steel)

  - Quick Side Release Buckles: plastic in various colours, gold tone metal (brass plated) and silver tone metal (nickel plated) available.
Style types explained in our menu link.
All items (yes everything) are handmade just for you and your pup. If you have any concerns contact us and we'll be happy to help.
FYI: Brass can be polished up with a little vinegar or lemon juice and baking soda paste and then rinsed off (or leave it to naturally patina). Stainless steel just means it won't rust or tarnish; won't stain the steel. It is AISI 304 stainless steel. It is stronger and more durable than nickle plated or solid brass but can react with metal allergies as it's a metal alloy.
Collars are made in with strong nylon webbing, washable ribbons and nickel plated steel slides and D-rings. The seams are triple stitched with two rows of stitching on stress points. Width listed is the width of the nylon webbing, not the hardware; which is slightly larger. Hardware pictured may differ slightly; they are examples. Widths may be minutely less or more than listed within about 1/16" (2mm).