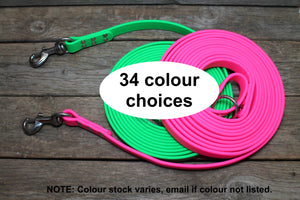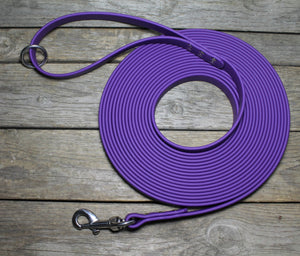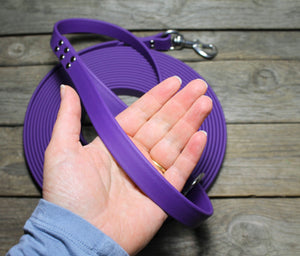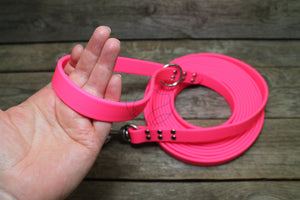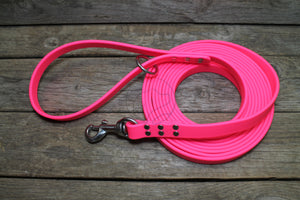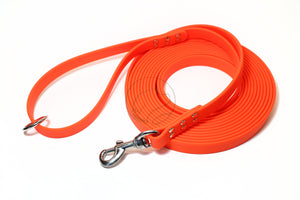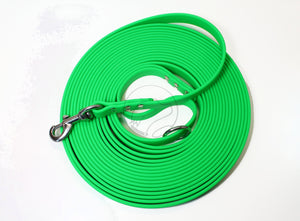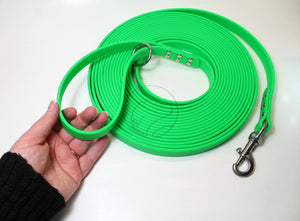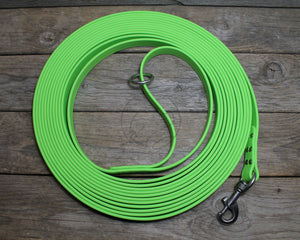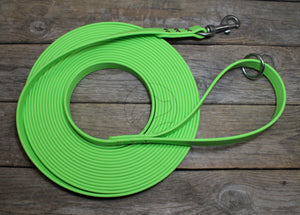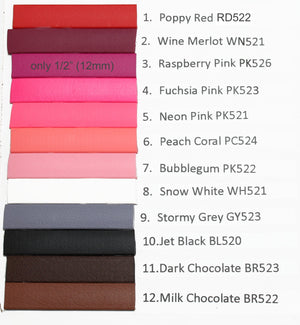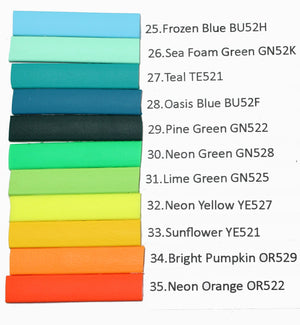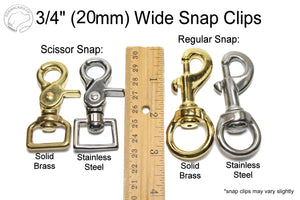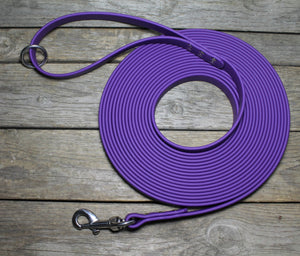 Extra Heavy Weight 3/4" (20mm) Waterproof Tracking Recall Long Line - leash for extra large to large dogs
This heavy weight waterproof long line is made in 3/4" (20mm) wide SH Beta Biothane. These are fairly substantial and are meant for large to extra large dogs. The long lines are a must for tracking, training, recall, drag lines, nose work and many other applications! (we do carry thinner widths through this link)

These heavy weight tracking lines, are available in 10ft, 15ft, 20ft, 30ft (3m, 4.5m, 6m, 9m) or a custom length (please email for custom order). With or without handles! The measure is from the one end to the other; the entire length, including snap and/or handle. All leashes are with handle unless you specifically ask for "no handle".

Hardware:

Stainless Steel- regular or scissor style snap
Solid Brass- regular or scissor style snap

Colours:
Poppy Red RD522
Wine Merlot WN521
(Raspberry Pink PK526- 1/2"only)

Fuchsia Pink PK523
Neon Pink PK521
Peach Coral PC524
Bubblegum PK522
Snow White WH521
Stormy Grey GY523
Jet Black BL520
Dark Chocolate BR523
Milk Chocolate BR522
Caramel BR521
Coyote Tan CB521
Olive OD521
Gold GD521
Sahara Tan TN525
Sage Green GN527
Lavender PU522
Amethyst PU524
Royal Purple VI521
Navy Blue BU523
Royal Blue BU522
Caribbean Blue BU521
Frozen Blue BU52H
Sea Foam Green GN52K
Teal TE521
Oasis Blue BU52F
Pine Green GN522
Neon Green GN528
Lime Green GN525
Neon Yellow YE527
Sunflower YE521
Bright Pumpkin OR529
Neon Orange OR522
Our large dog leashes are made with genuine Super Heavy Beta Biothane in 3/4" (20mm) width (rated at 1000 lbs/ inch of width). There are double rows of triple rivets at the handle and snap clip for strength. We hand make everything to each individual order and the pictures here are just samples.

Biothane the 'MAGIC' alternative to leather:
Beta Biothane is waterproof - easy to clean with soap and water.
It does NOT: mould, mildew, mark fur or absorb odours. The strong polyester webbing is coated in PVC giving the look, feel and suppleness of leather. Biothane is a USA made product. Please feel free to check out their website: http://biothane.us/
From one of our clients:
"It's Unicorn Leather!"