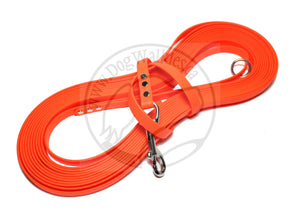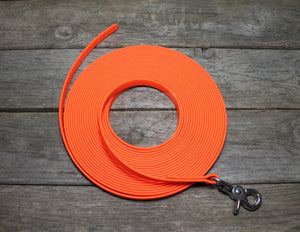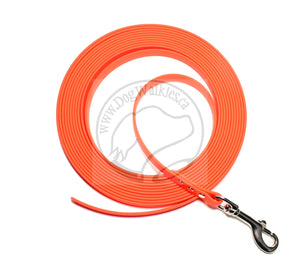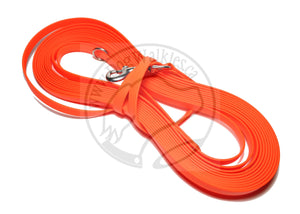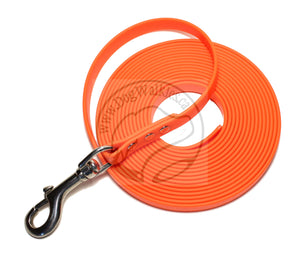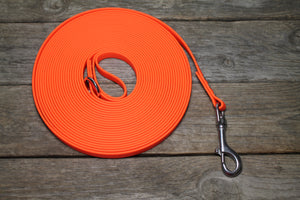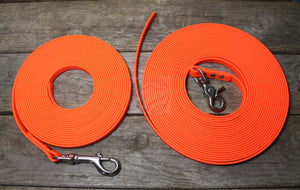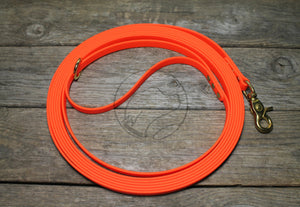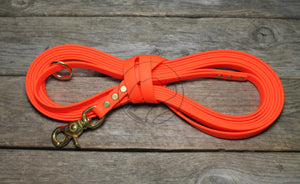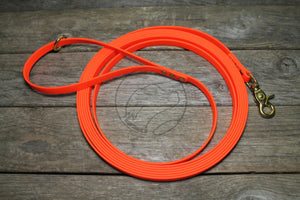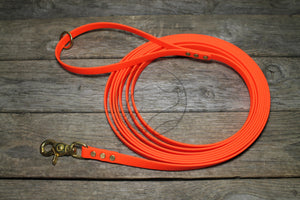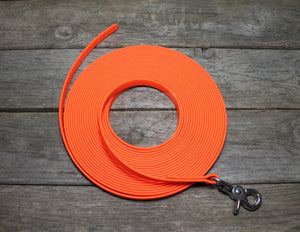 Neon Orange Waterproof Tracking Recall Long Line
This waterproof long line in Neon Orange is made in 1/2" (12mm) wide ST Beta Biothane. Our long leashes are light weight but very strong and a must for tracking, training, recall and many other applications! These trimmer weight tracking lines are available in 10ft, 12ft, 15ft, 20ft, 30ft (3m, 3.5m, 4.5m, 6m, 9m) or a custom length (please email for custom order). With or without handles! The measure is from the one end to the other; the entire length, including snap and/or handle.

Our thin long line leashes are made with a lighter weight Genuine Beta BioThane in 1/2" (12mm) width but are still very strong! (1000lbs per inch of width) They have a breaking strength of 1000lbs per inch of width. It is thinner to cut down on the weight of the line. They are triple riveted for strength and durability. We hand make everything to each individual order and the pictures here are just samples. Hardware sometimes isn't as pictured (supply chain issues). Feel free to contact me for photos of exact hardware used.

Biothane the 'MAGIC' alternative to leather:
Beta Biothane is waterproof - easy to clean with soap and water.
It does NOT: mould, mildew, mark fur or absorb odours. The strong polyester webbing is coated in PVC giving the look, feel and suppleness of leather. Biothane is a USA made product. Please feel free to check out their website: http://biothane.us/
From one of our clients:
"It's Unicorn Leather!"