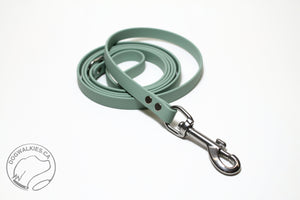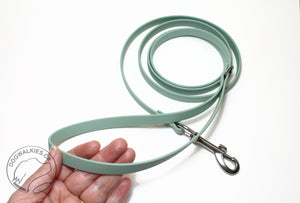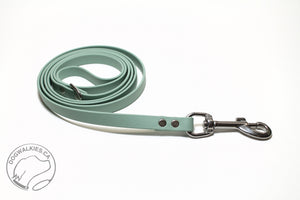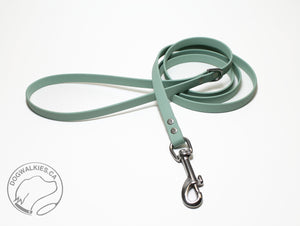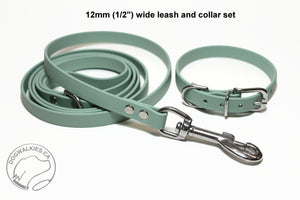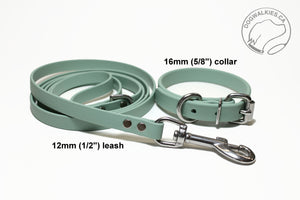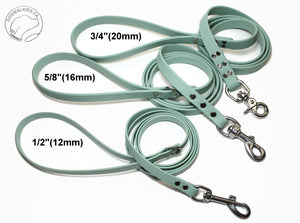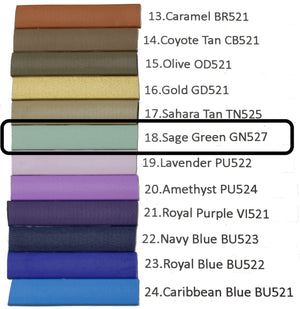 NEW Sage Green Biothane Small Dog Leash
Soft Sage Green! This NEW shade is an amazing pastel inviting green with grey undertones. This leash is thin 1/2" (12mm) wide, Genuine Biothane in our shade of Sage Green! Made with our lightest weight Genuine Biothane material, it's a perfect choice for medium and smaller dogs. Collars pictured are sold separately.
Your pick of:
Length:
NEW 18" (45cm) and 24" (60cm) light weight traffic leash
3 feet (0.9 meter)
4 feet (1.2 meter)
5 feet (1.5 meter)
6 feet (1.8 meter)
7 feet (2.1 meter)
8 feet (2.4 meter)
longer lengths here: link soon

Hardware: regular snap,baby snap or scissor snap
solid brass
stainless steel
NOTE:
** Baby snaps only fit small, light D-rings. (Our collars up to 3/4" wide will work)
** The scissor snaps weight quite a bit more and aren't good for tiny dogs.

We hand make everything to each individual order and the pictures here are just samples.
Biothane the 'MAGIC' alternative to leather:
Beta Biothane is waterproof - easy to clean with soap and water.
It does NOT: mould, mildew, mark fur or absorb stinky dog odours. The strong polyester webbing is coated in PVC giving the look, feel and suppleness of leather. Biothane is a USA made product. Please feel free to check out their website: http://www.biothane.us/
From one of our clients:
"It's Unicorn Leather!"