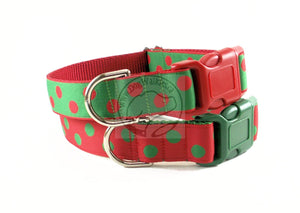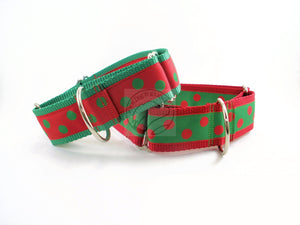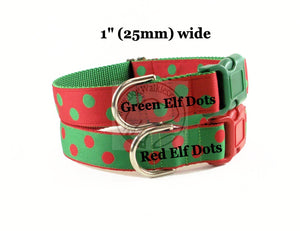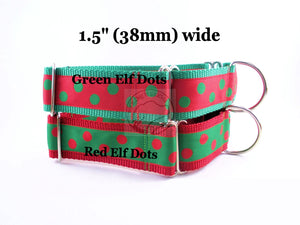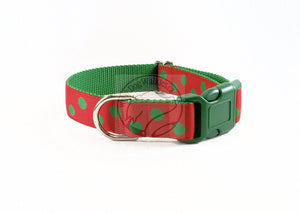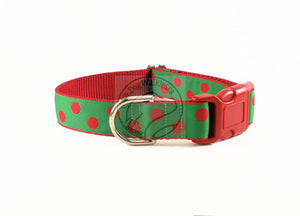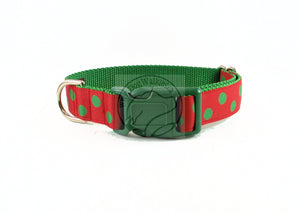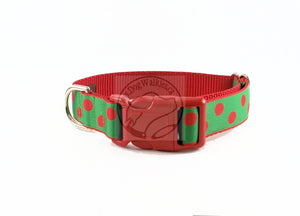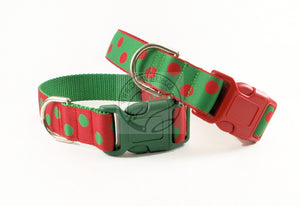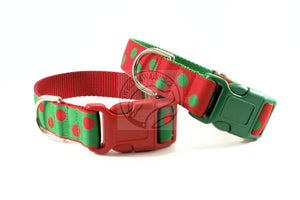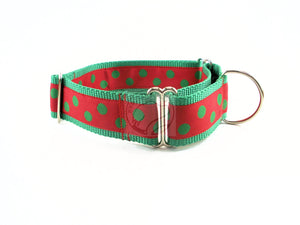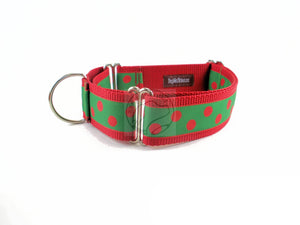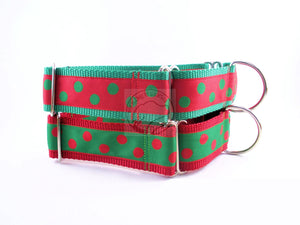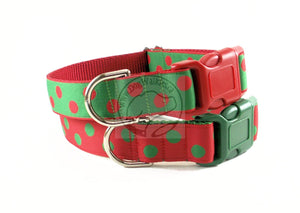 Red and Green Elf Dots - dog collar
Christmas Elf dots, in your choice of width and colour! Dots are matched with the red or green webbing back for strength and style. Matching leashes are also available in 1" (25mm) wide - email for info.
Your choice of width, size and style:
WIDTH: Our Christmas Elf Dots collars come in 2 widths:
  1" (25mm): most common width, regular hardware, best for medium to large dogs or smaller dogs with longer necks
  1.5" (38mm): wide width, heavier hardware, best for (sight) hounds or large to extra large dogs.

SIZE (adjustable from):
  - Small: 8" to 13" (20cm to 33cm)
  - Medium: 12" to 18" (30cm to 45cm)
  - Large: 14" to 22" (35cm to 56cm)
  - Extra Large: 20" to 28" (51cm to 71cm)
 STYLES:
  - Regular Martingale
  - Chain Martingale; stainless, brass or nickel plated

  - Quick Side Release Buckles; plastic in various colours, gold tone metal (brass plated) and silver tone metal (nickel plated) available.
Style types explained on our side menu links.
All items (yes everything) are handmade just for you and your pup. If you have any concerns contact us and we'll be happy to help.
Collars are made in with strong nylon webbing, washable ribbons and nickel plated steel slides and D-rings. The seams are triple stitched with two rows of stitching on stress points. Width listed is the width of the nylon webbing, not the hardware; which is slightly larger. Hardware pictured may differ slightly; they are examples. Widths may be minutely less or more than listed within about 1/16" (2mm).