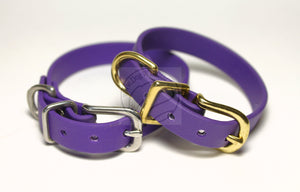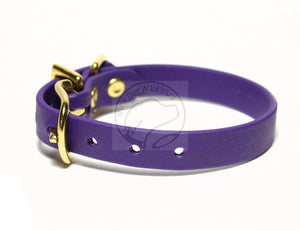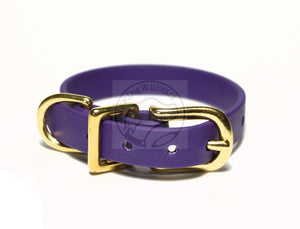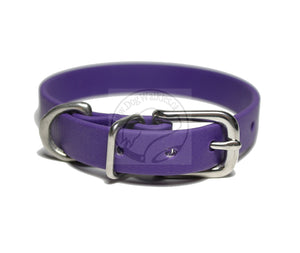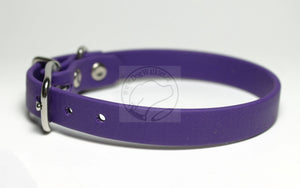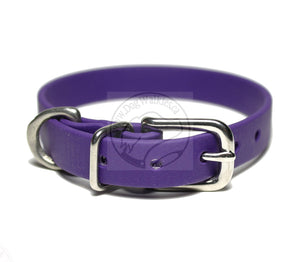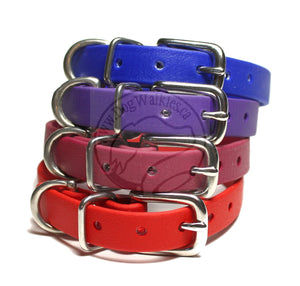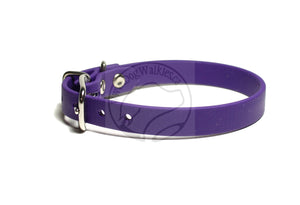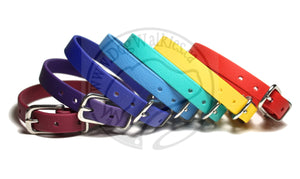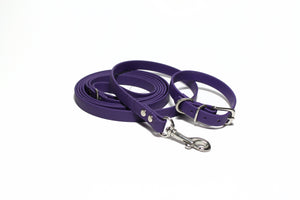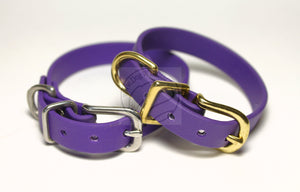 Royal Purple Biothane Small Dog Collar - 1/2" (12mm) wide
Regal purple for your little pup! The rich noble purple shade is washable, so easily cleaned up to maintain the bold purple!  This aubergine purple collar is made in 1/2" (12mm) Biothane and available with stainless steel hardware or solid brass hardware. (All colours sold separately)

COLLAR SIZE:
There are 7 holes are spaced 1/2" (12mm) apart, with the centre hole as the 'Size' you choose. Measured from mid buckle to centre hole. 

Our thin small dog collars are made with a lighter weight ST Beta BioThane in 1/2" (12mm) width. Biothane is waterproof, maintenance free and will not absorb mould, mildew or odours. You could say it's "Unicorn Leather", right? Biothane webbing is manufactured in the USA.

Note: Please check collars and leashes on a regular basis and repair or replace any damaged parts for safety reasons. Leashes and collars are your responsibility once you receive them, always keep your dog's safety in mind and use responsibly. We ship from Canada.
All photos are samples of the collars you will receive. Everything is uniquely custom handmade for your pet.