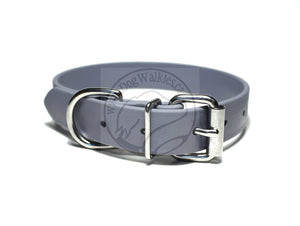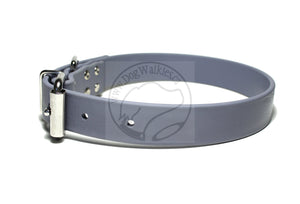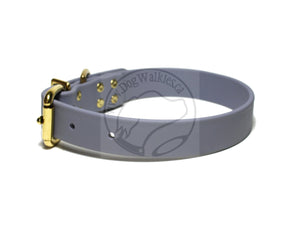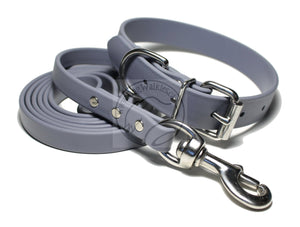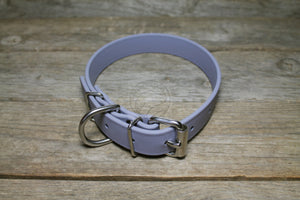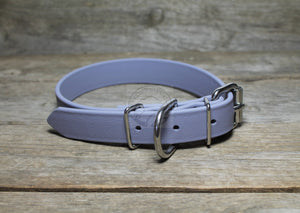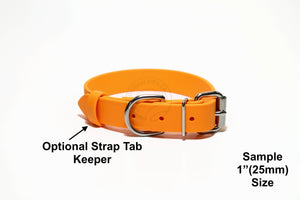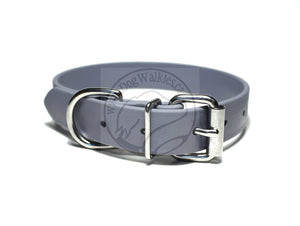 Stormy Gray or Grey Biothane Dog Collar - 1 inch (25mm) wide
Oh (Canada) forever stuck in the middle- wether or not you use Grey (UK norm) or Gray (USA norm), there is no contest- it is an awesome colour. This stormy, steel or smoky gray is undeniably reserved and classic. It is 1" (25mm) wide Genuine Biothane webbing, hardware is stainless steel or solid brass- your choice. Leashes sold separately.
Size of your collar:
Quite simply- The size is the CENTER of five holes, spaced 1" (25mm) apart. We measure from end of buckle to hole.
The pictures here are just samples.
Biothane the 'MAGIC' alternative to leather:
Beta Biothane is waterproof - easy to clean with soap and water.
It does NOT: mold, mildew, mark fur or absorb stinky dog odors. The strong polyester webbing is coated in PVC giving the look, feel and suppleness of leather. Biothane is a USA made product. Please feel free to check out their website: http://biothane.us/
From one of our clients:
"It's Unicorn Leather!"