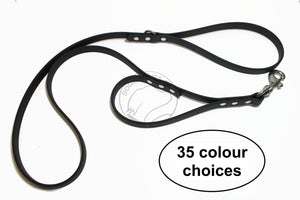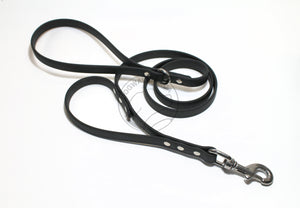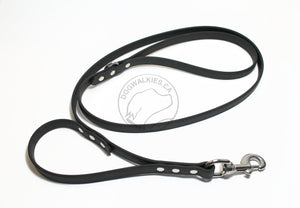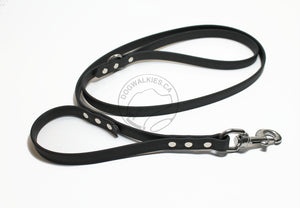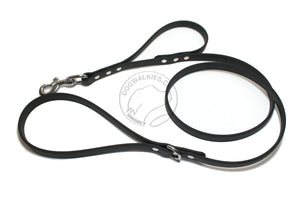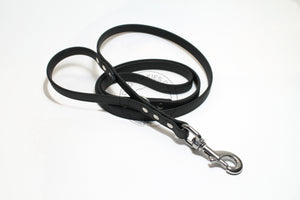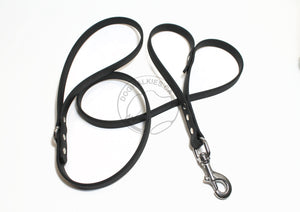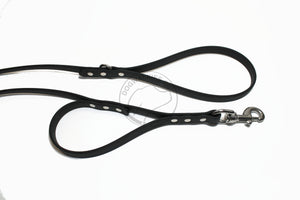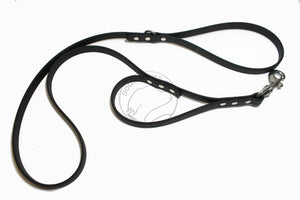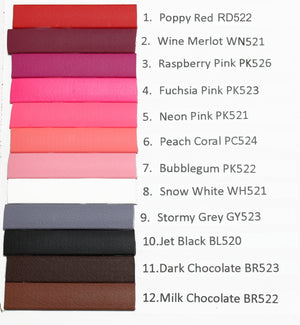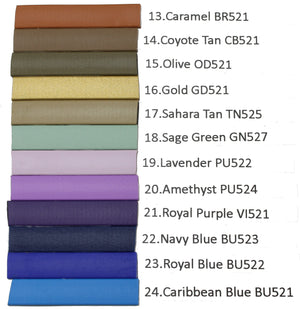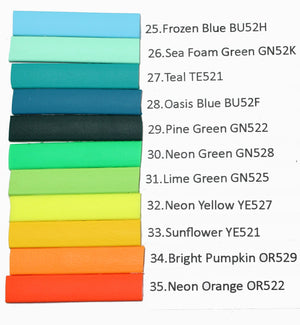 Two Handle Biothane 5/8" (16mm) wide Dog Leash - Leash with Traffic Handle
This special leash has a built in traffic handle at snap end, making it perfect for city or busy areas. It is completely waterproof, flexible and washable. This 5/8" (16mm) wide dog leash is available in 35 colours of genuine Biothane and is built for style, durability and strength. Best for taller dogs as it has a traffic leash right at snap level.

You choice of:
Hardware:
Stainless steel regular duty snap
Stainless steel light duty snap
Stainless steel scissor snap
Solid brass regular duty snap
Solid brass light duty snap
Solid brass scissor snap
Total Length:
4 feet (1.2 meter)
5 feet (1.5 meter)
6 feet (1.8 meter)

Our large dog leashes are made with genuine Super Heavy Beta Biothane in 5/8" (16mm) width (rated at 1000 lbs/ inch of width). The snap clips are available in regular duty or light duty. There are a triple row of rivets at both handles and snap clip for strength.
*PLEASE NOTE: The matte black plated metal hardware is a modern sleek fashion style coated hardware which can chip, giving it an edgy look but isn't waterproof. We will not replace, repair or guarantee this hardware - it's for show. :) The matte black rivets are coated solid brass and can mark/smudge due to finish but is easily washed off, just so you are aware. Dry thoroughly.

Biothane the 'MAGIC' alternative to leather. Beta Biothane is waterproof - easy to clean with soap and water.
It does NOT: mould, mildew, mark fur or absorb stinky dog odours. The strong polyester webbing is coated in PVC giving the look, feel and suppleness of leather. Biothane is a USA made product. Please feel free to check out their website: http://www.biothane.us/
From one of our clients:
"It's UNICORN leather!"